This is the second issue of our new Letter from… column, and we asked toonpool.com artist no para innita (NO) about his life and begged for some photographs of his working place and the city he lives in.

Talking with NO is a real pleasure and a challenge at the same time. You have to be as attentive as a fakir walking on burning coals with a casing of eggs on his forehead because the discussion may slip before you know it between the 3 realities of his amazing art .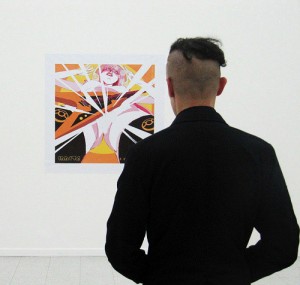 The feminine universe might be a abstract zone for some, but for NO is the center of his work and it is concentrated all in "Innita", his dreamed-love character. His art, as No says, floats between 3 realities: the reality as we know it, the super-reality (where Innita is a nudist rocker-songwriter) and the sub-reality of violence and vengeance, a worldwide war between vegans, vegetarians and omnivores, all at once.
So, beside living in the wonderful Colombia, it is hard to catch NO between music, design and the 3 realities of his art.
1. What was your dream last night?
Sorry, I don't remember it right now. Surely it was another one where I was fighting against Omnivores (zombies) and "VegeTaurians" (minotaurs).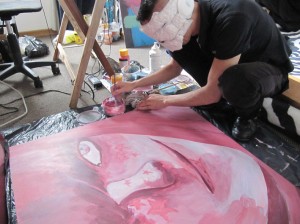 2. Next plans or ideas?
Mainly "Rockanrose", Innita's next album, this time as a completely all-sung album, with a permanent singer and a lineup for live shows.
3. Your food today?
Today I've took a brunch so far: chocolate (with water, not with cow's milk – I'm vegan) and spaghetti with Textured Vegetable Protein (TVP), sprouts, carrot, tomato sauce, gherkin pickles. I know, spaghetti and a glass of chocolate, a weird mix.
4. Do you like your place or would you like to live somewhere else?
Althought I visit those 3 aforementioned realities too often, I'd like to tour throughout different countries once "Innita's Rockanrose Live Show" will be ready next year.
5. What was the huge mistake in your life you (unfortunately) never did?
The action I never did? Well, kissing those girls from the past I didn't know they have a certain crush on me. It's my most regretful mistake.
6. In 1977 NASA has sent orbiters Voyager 1 and 2 into space which will never stop to fly through the universe by gravity. They contain the Voyager Golden Records with many testimonials of whole mankind, greetings in 55 languages introduced by US president Jimmy Carter ("This is a present from a small, distant world, a token of our sounds, our science, our images, our music, our thoughts and our feelings…."). The Golden Records with a lifespan of 500 million years at least are including drawings of a naked man and woman, detaild genitalia, many scientific graphics, sounds of planet earth and music by Bach, Beethoven, Mozart and Chuck Berry.
Maybe aliens out there will be shocked in some million years! But in case such a NASA mission will be replayed: which of your artworks should follow it ?
I would send Rockanrose's cover. Its artwork will be displayed on November 5, in a conference I will do during a Colombian Design Festival. The importance of "Rockanrose" for Innita -and also for her fans- deals with regaining new strength after a deep personal loss. She will display herself as a reborn rose, using her thorns for protecting her own tenderness.
7. Why sending just the cover and not the whole album?
Ok, It could be the whole Rockanrose physic album if the NASA star ship go out after march 2011.
toonpool.com note: Ok, we will ask NASA!
Credits to Nicoleta Ionescu for talking with no para innita.

© toonpool.com
Tags: artist, Community, illustration, Interview, letter from, no, no para innita, toonpool, toonpool.com