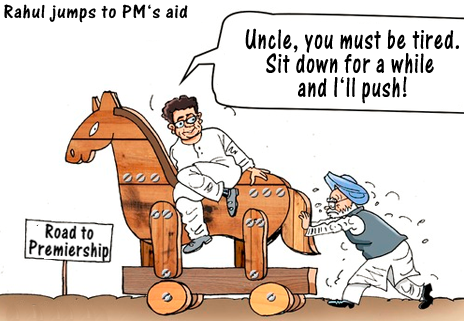 In this section I try to try to explain cartoons that require very specific knowledge about a certain country's politics and culture.  If you have any editorial cartoons that you would like me to figure out, just send me an email.
This month I picked a political cartoon by Shyam Jagota from India. It goes by the very matter-of-factly title "Indian Political Cartoon" but I prefer the more detailed in-panel caption "Rahul Jumps to PM's Aid".
Who are these people?

You may have recognized India's Prime Minister ("PM") Manmohan Singh by his trademark blue turban (dastar). Singh is a member of the Indian National Congress party (INC), commonly known as "Congress". Congress has been the dominant political party in India for most of the time since the country gained independence.

This is Rahul Gandhi of the influential Nehru-Gandhi dynasty (no relation with the Gandhi, though). His family is strongly tied to the National Congress. Rahul's father, grandmother, and great-grandfather all served as Prime Minister of India. Rumors about him aiming for said position have been around since he entered national politics in 2004. The next chance to become Prime Minister would be the 2014 general elections. Rahul is especially popular with young people and makes frequent visits to universities and the like (see, for example, this article).
What's the point?
The cartoon plays with the motif of Rahul's youth. He addresses Mr. Singh using the English word "uncle", which is common in India when addressing elders who are not related by blood. It is, however, nothing you would do in a professional relationship and is meant here to show Rahul not being up to par with experienced politicians. The wooden horse, too, is a hobby horse rather than the Trojan Horse frequently found in European cartoons.
Manmohan Singh pushing Rahul's horse addresses the hopes of him and other Congress members to revitalize interest in their party by playing on the "Rahul factor" despite occasional setbacks (see this article).
The cartoon was published in November 2010 and refers to some public statements Rahul made in the defense of Mr. Singh. In one interview he emphasized how honest the PM was by calling him the "cleanest man in Indian politics". At another occasion he said that Singh had not done any wrong in the so-called "2G spectrum scam" (which I am not trying to explain here.. if you are interested go to Wikipedia).
I hope this was of any help.
Paul Hellmich with Pooja Gupta
© toonpool.com
Tags: India, Manmohan Singh, Rahul Gandhi