Last weeks two major news events were the court rules against Italy's premier Silvio Berlusconi and the surprise prize for Barack Obama. Great cartoons on both issues have been posted last week and I would like to introduce some of them here.
The Berlusconi cartoons are pretty uniform in their evaluation of the court's decision – no one seems to like that little rich guy. As you would suspect, a lot of them come from Italy. Some, unfortunately, exceed my language skills and the Google translator (my Italian is basically French with an accent). So, if anyone could translate one of these, I'd be happy. Cartoons without words or even in English are easier. I liked the way these two by Uber and Matteo Bertelli correspond if you ignore that it's Lady Justice in one cartoon and Italia Turrita in the other.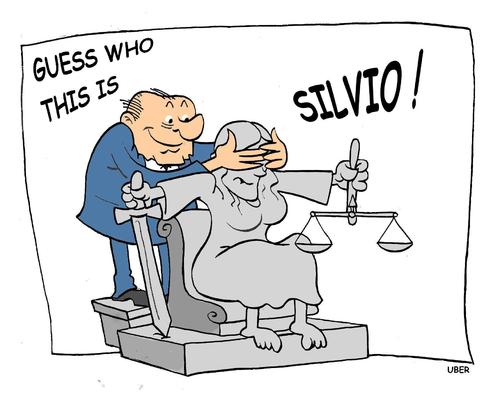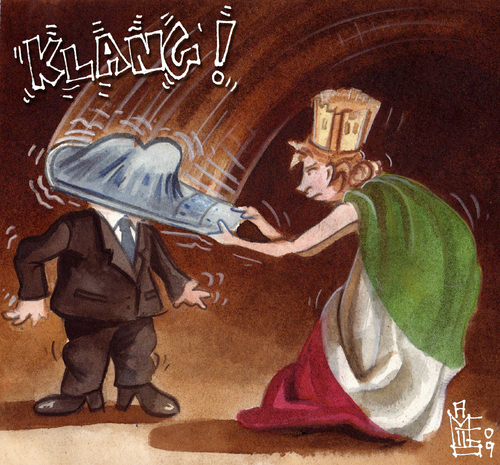 As a whole, the cartoons express some hope that Signore B. will finally feel the consequences of his actions (take either one of these). And then there is this one that shows Lady Justice dropping her blindfold and as a consequence all that makes justice just. I don't know if this was intended or not.
The Obama cartoons differ in their interpretation of the event but, as a friend pointed out to me, a lot of them replicate toonpool.com's well-established categories of opinion. There are those that  emphasize the hope for change (this one and this one). There are those that concentrate on aggressive American foreign policy (here and here). There are those that… dislike Obama (here). And there is George W. Bush winning the prize.
Finally, there are two cartoons that manage to include Silvio and Barack (here & here).
Cartoons of Interest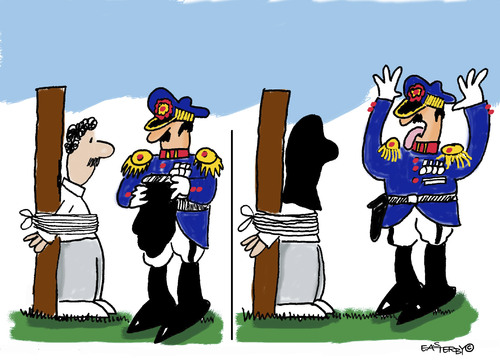 My favorite this week is "Execution" by Easterby. It's a very classic cartoon –  banana republic-style military executions definitely are cliché cartoon settings. And a similar joke has been made in several films and TV programs (with a blind guy instead of an executionee). But I still laughed. Take that, innovative humor.
Paul Hellmich
© toonpool.com
Tags: Barack Obama, last week, letzte woche, Nobel peace prize, Silvio Berlusconi