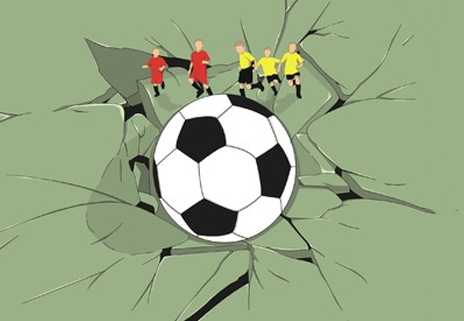 The 2010 FIFA World Cup will begin on 11 June 2010 – from then on it's four weeks of soccer, football, fußball, fútbol, voetbal, pêl-droed, or whatever it is in your language. Of course, toonpool.com will take part in the general hysteria.
On June 11 we will launch our own little world cup and  you're all invited to be a part of it. Starting today, we collect portraits and caricatures of soccer players in our "soccer portraits collection". So, if you have drawn a soccer portrait – no matter if it's a legendary player like Pelé, a current player like Lionel Messi or someone who didn't quite make it to South Africa like Dynamo Moscow's own Kevin Kuranyi – just become a member of the collection and add you work.
The actual competition will begin next Friday. That's also when we'll post further information about the rules and schedule. For now, you only need to know that we collect those portraits and that, in the end, there will be a toonpool.com World Champion. And a trophy.
We decided to make our own competition non-commercial. There are no other companies involved, no big money, and not even little money. It's all about the competition and the fun – just like the real FIFA World Cup. Used to be. Some time. Probably.
Anyway.. there' nothing to win except fame and the trophy and even those two are merely digital. But it will definitely be exciting and fun, so join the "soccer portraits collection" and keep them portraits coming!
Illustration: "Soccer" by Bacsa
© toonpool.com
Tags: Fifa, football, fußball, futbol, soccer, WM, World Cup