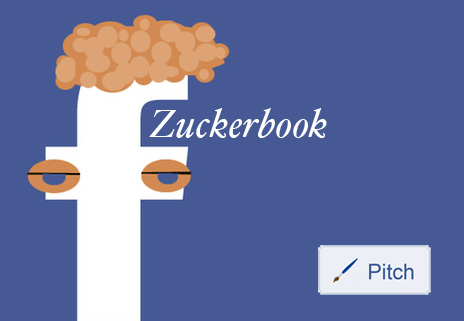 WE LIKE TO ANNOUNCE A NEW CONTEST. We are searching for the best artworks about:
• Facebook (cartoon) or
• Mark Zuckerberg, head of Facebook (caricature)
…or both combined. What are our funny thoughts of Mark's childhood and parents? What did he do in school in former times, and who had been his classmates and friends? Will whole earth's population be registered on facebook soon? What will follow? What about business, will Mark buy and own the world one day? And what will he be more: Big Brother or God? Which jokey accidents and misfortunes could happen to facebook and Mark? And most important: Who will be Mark's wife-to-be???
——————————————————————————–
PRIZES:

1. Prize: Euro 150,00
2. Prize: Euro 100,00
3. Prize: Euro   50,00
——————————————————————————–
EASY RULES:
1.) Please upload contest's cartoons on toonpool.com (starting now). Number of entries is unlimited.
2.) Stringently required is a tag 'zuckerbook' for each entry to join (for old cartoons too).
3.) We will collect and display all Zuckerbook-cartoons in our blog.
4.) Deadline for submissions is Feb 28th (22:00h CET).
5.) A jury from a Berlin Art Academy, 30 lecturers & professors, will gather on March 1st to determine the winners.
6.) Winners will be announced in our blog section on March 4th.
7.) Any recourse to courts of law is excluded.
8.) this pitch  is in no way sponsored, endorsed or administered by, or associated with, Facebook.

The artwork used for the preview is done by  Junior Lopes.
………………
Incoming submissions:
SUBMISSION TIME IS OVER.

© toonpool.com
Tags: Contest, facebook, pitch, toonpool, zuckerberg, zuckerbook