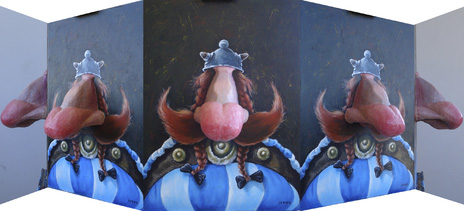 Lloyy was born in Havana, Cuba and moved to Spain in 1999. He earned several awards and – as far as I know – he is the only toonpool.com member who made it into the Guinness Book of World Records. Twice.  (He drew live caricatures for 24 hours without break in Cuba in 1999 and, again, in Spain in 2003). Lloyy's recent works expand the limits of drawn caricatures by adding three-dimensional elements. We talked about this new trademark style and about the future of non-digital cartoons.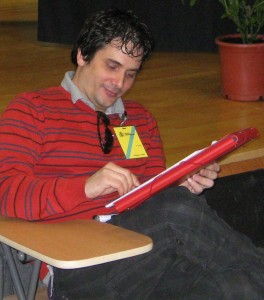 Lloyy, can you tell me about how you got the idea to do these "three-dimensional" caricatures?
Well.. after years of doing traditional "hand-made" caricatures and seeing more and more artists leave their brushes for computers – and others starting with computers right away – I decided that it was time to renew the traditional method in some way. Then it occurred to me that I should combine two techniques I had been using separately before: painting and sculpture.
Can you explain the process of creating such a sculpture/caricature hybrid?
The process always starts with a sketch in which I will mark the parts that will stand out in the final portrait. I will model these parts in wax and fix them to the canvas. Then I will apply a primer and paint the actual caricature.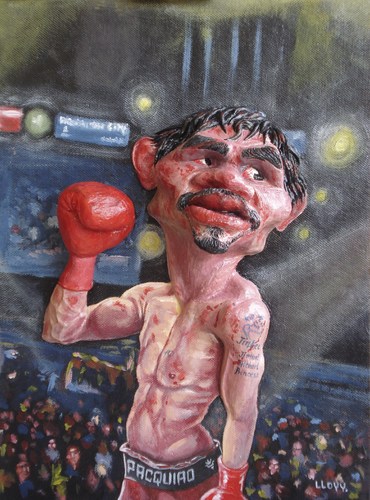 Where do you keep them after they are finished? I could imagine that they take more room than 'classic' paper-based caricatures.
It really is difficult to store this type of work. Every time I finish one, I have to frame it and hang it on the wall. At the moment there is still enough wall-space, though. And, after all, these paintings are meant to be put on display and eventually sold. Still, I hope that I will never have to sleep on the streets.
Are there still ways in which think you can improve the 3D technique?
Yes. Not only do I think that the 3D works will continue to evolve and improve over time, I am also convinced that there is a need for me to continue exploring new ways of expression using this technique.
You also do another type of caricatures that I think is interesting -
dissolving faces into separate parts. Do you still do these or are they from a different phase of your oeuvre?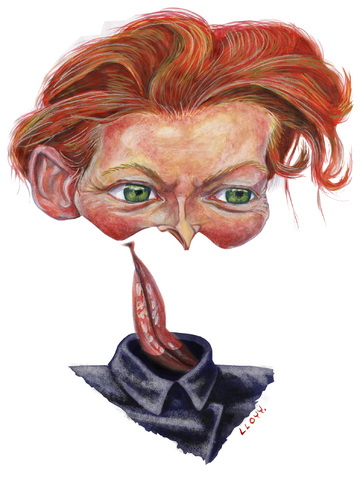 I have been using these other techniques and styles for years and I am not going to discontinue them because of the 3D style. At the moment I may dedicate more time to 3D, but I still continue to explore the possibilities of the other style in both painting and drawing.
How do you decide which style to do next?
One of the key factors is definitely time. If a caricature needs to be done urgently, I will usually prefer to draw it. Every 3D piece takes several days to finish.
I would like to get back to something you said earlier on – the bit about your frustration with other artists switching to digital. Do you think that "hand-made" cartoons will prevail in the long run?
I think that, despite the current trend towards computers, a hand-made caricature will always retain its charm. People go to exhibitions to better appreciate the artist's technique, his strokes, etc. – the unique features of an artwork. As for pictures done on a  computer… Well, I like them and I admire the skill of the artist. But, as with 'hand-made' art, I prefer to see the original version – that is, the one on the computer screen and not the print job.
Thanks for your time!