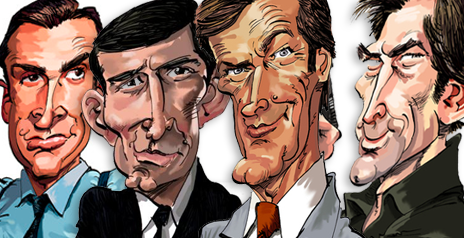 Sheffield-based artist Ian Baker has drawn gag cartoons for magazines like Reader's Digest, Penthouse, or National Lampoon. He is also responsible for an amazing collection of caricatures based on characters from the twenty-two (or 23, 24, or maybe even 25) James Bond movies. If you are hoping for questions about the gag cartoons you will be disappointed.

Ian, I really like your Bond caricatures. What is it about James Bond that made you start this series?
I have alwa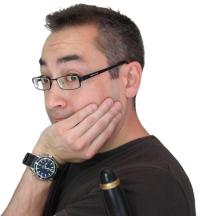 ys been a fan of the James Bond films since I was a kid. In recent years I was involved in various Bond related projects, particularly in America, working with people who have had a long history working in the Bond universe on the film and literary side of things.
I started working on a few caricatures for my own amusement really, but they soon started to get the attention of Bond fans around the world and before I knew it I was producing large numbers of these portraits.
I've been overwhelmed with the positive response I've had from Bond fans. The downside is that at one point MGM Studios in Hollywood threatened to sue me unless I stopped producing the artwork, but they backed down.
What kinds of Bond projects have you been working on?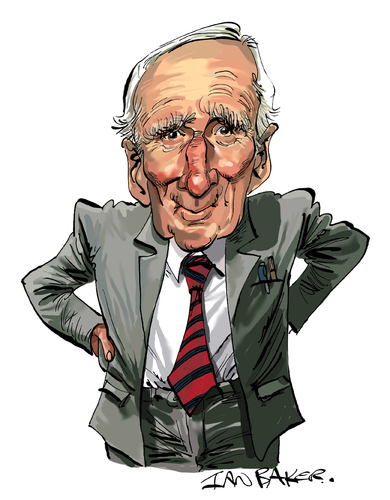 I was involved in a big project that unfortunately may not come to fruition now. I'm actually not allowed to talk about it, though. Seriously. Just like the real world of 007!
What's your favorite Bond movie?
That's a tricky one to answer; I love so many of them. I grew up in the Roger Moore era, and I loved all his films. Probably for his sense of humour and for the gadgets.
But I have to say that my favorite is probably Casino Royale. I thought the new Craig era brought with it a much grittier, down to earth feel that was right for modern times.
The new Casino Royale? Really?
Sure. The thing with Bond is that your favorite film can change depending on your age, or the way the world is at any particular time. When I was a kid I would say my favorite was probably The Spy Who Loved Me.
It's still one of the very best, but back then, as a young kid, I was very impressed with gadgets, so that film fulfilled that. Right now I appreciate Bond being a much harder and more serious incarnation of the brand. I do think Daniel Craig is a very good actor, too. It's funny but even though in real life I love technology and gadgets, what I want from Bond now is to not rely on them.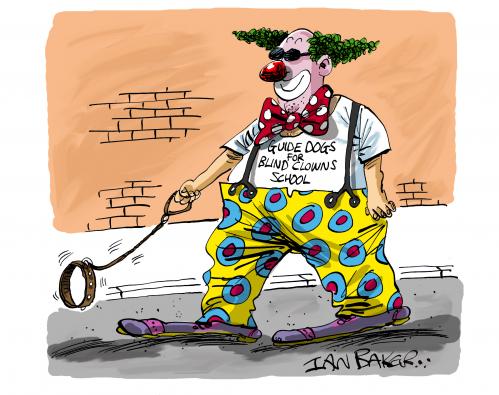 Is it getting harder to come up with Bond characters you haven't done yet?
Not really, I'm not even half way through the collection. I actually get Bond fans emailing me requesting or suggesting particular characters to be added to the collection.
There have been a couple of Bond stars who, I've been told from my American sources, love the caricatures I've done of them – George Lazenby and Gloria Hendry. That's so good to know.
There are still many characters that I need to do, some of them are major recurring characters too and it would be a huge oversight to not do them, so it will be a will be a while before I run out of steam with this project…Not forgetting of course that there is a new Bond film currently in production with all new characters to tackle.
How much time do your portraits usually take?
I work very quickly and seem to have a bit of a reputation for speed now. It varies. On average the black ink line work takes about five to ten minutes,and then I'll add color
I might spend anything from 20 minutes to a few hours depending on its complexity.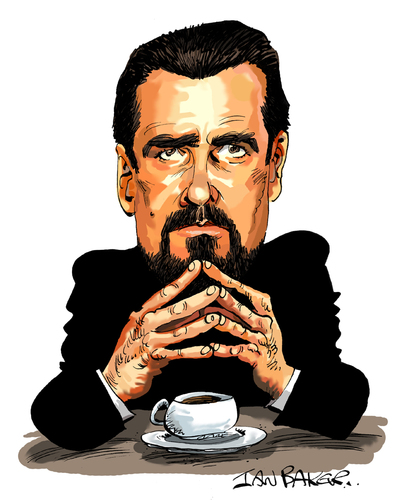 The fact that you are working so fast makes me wonder.. did you ever work as a street caricaturist?
No, never. And I have never really seen myself as a caricaturist to be honest. I do caricatures when asked to, but it's not my main area. I think nerves put me off doing live caricatures. Also, I prefer not to let the public see work that I'm not happy with… and doing that kind of work inevitable leads to work I am not proud of.
I greatly admire live caricaturists. Many of them seem to be able to hit a likeness straight away, every time, and that takes confidence. Unfortunately also, on a business level, I do feel that live street caricaturists are not paid what they deserve to be paid.
These days a new book of yours is coming out. Can you tell a bit about it?
It's called "The Codgers' Kama Sutra". It's in fact mainly a written book, which has a few cartoon illustrations scattered throughout it. I have worked a fair amount over the years as a comedy writer, and I wanted to do a book where I could showcase writing skills and let the cartoon side take a back seat.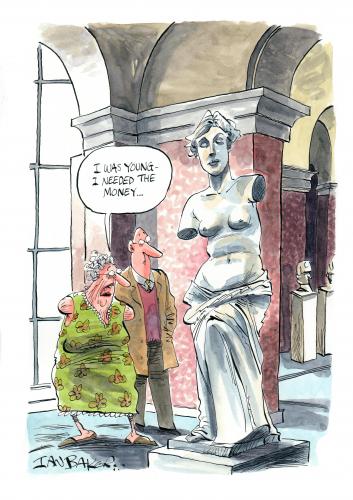 How did you end up with the idea for the book? You don't seem that old..
I've illustrated many books, written by other people, which are aimed at an older market – Mainly gift books that gently poke fun at people's ages. I always wanted to write a similar book but with much more extreme, edgy humor.
I think a concept like the Kama Sutra is a gift for a satirist. Once I'd finished writing and illustrating it, it took a couple of years before I landed a publishing deal. Most publishers who saw the book found it to be a little bit too rude for their humor ranges.
Ultimately I submitted Codgers' to Constable & Robinson in London, one of the oldest and most respected publishing houses in Europe, and I was delighted when they offered me a deal. A year on from signing the contract, I now have an advance copy of the book in my hands and look forward to the release of the book internationally on the 22nd of September.
If the book has been lying around for so long.. didn't you feel tempted to change things.. redraw parts, add new cartoons, etc.?
This was one of the rare occasions where I felt the work I'd done had reached a satisfactory conclusion. I re-read it several times over the course of a year and it still made me chuckle every time.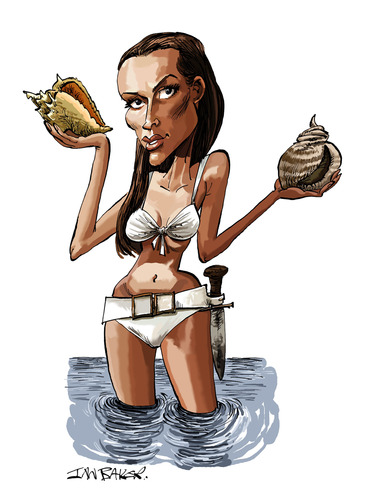 There was one thing I did go back and change though, and that was the cover artwork. The original cartoon, I felt, could be a lot better, so I did it again. However by this time the old cover was appearing all over the internet with the old cover cartoon
There is another book I am thinking of resurrecting at the moment – One I started working on about six years ago. That book will have to be totally started from scratch, as having recently seen the original work, I know the cartoons need to be drawn better. I think all of us, as cartoonists, never stop improving our skills and evolving.
I'm sure one day I will pick up the "Codgers' Kama Sutra" and wish I could re-draw the illustrations or add a new chapter. But for now, I'm very happy with the finished book!
Thanks for your time!
Tags: 007, George Lazenby, Ian Baker, Ian Fleming, James Bond