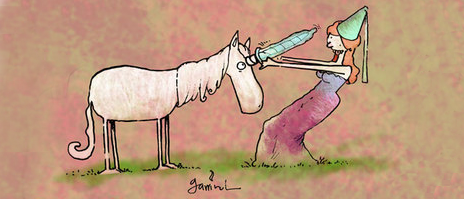 "Adult cartoons" is a topic that  I have tried to avoid so far. There are mainly two things that I find problematic about the majority of sex-themed cartoons. The first one is that they are often more annoying than anything else. Basically they are the graphic equivalent of someone yelling "PENIS! See, I said PENIS!!!! And there is nothing you can do about it because this is the INTERNET!!! P-E-N-I-S!!!. The second problem is that so many of them perpetuate a sexist ideology that hasn't changed much since the early days of Playboy.
Still, I thought it would be interesting to learn more about the motivation and thoughts of "adult" cartoonists. Gustavo "Garrincha" Rodriguez is a Cuban cartoonist and illustrator who moved to North Miami Beach, Florida in 2005. I admire many of Garrincha's works: his vectorized caricatures are inventive and immediately recognizable and his line drawings have have an almost Sempé-ish lightness to them. On the other hand he also does a series of cartoons aptly titled "Dickies". Hence this interview: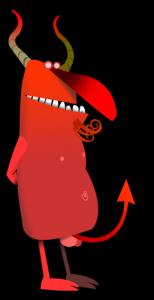 Gustavo, what's the story behind your series of sex-themed cartoons?
Sex is still taboo to many people. Well, not sex, but talking or joking about it. Which is, as we all know, stupid. And hypocrite. And wonderful to depict.
So yeah, I'm a bit provocative there. I didn't have a space to publish any of that material back in Cuba. Coming to the States and starting a blog where I can publish whatever the hell I wanted was therapy, catharsis, a test and healthy creative exercise all in one.
Why couldn't you have done the sex cartoons from Cuba?
I wouldn't have been able to set up a blog in Cuba mainly because Internet connection is scarce and state-controlled. Even having a computer is a big deal there.
Most artists use computers as an extension of their work in government propaganda, or to talk about politically correct subjects in sports, culture, or technology. Because they want to or because they know they are being watched.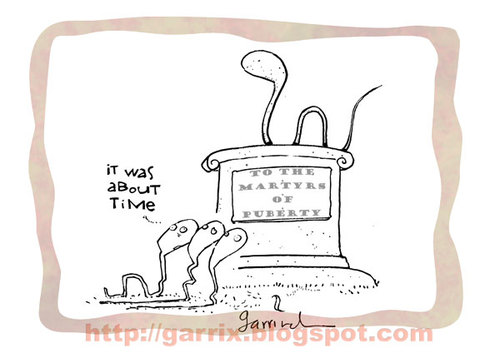 There is that thing with the control and censorship government bureaucrats take so seriously. They keep reminding everybody in earshot that the Cuban Revolution is a superior project. So revolutionary morality – whatever that means – is something they try to keep an eye on.. Soft erotic content is OK sometimes in one of the two humor publications nationally distributed, but drawing penises is a no no, to put it grossly.
I would have thought that Americans would be more touchy about all things sex-related..
Mainstream America is conservative and sometimes prude. But there are pockets or niches. The Internet definitely opens extra doors.
Having a personal blog and a website where I can publish everything is something I could have never dreamed of in Cuba. And so far I haven't had anybody in the States telling me to shut it down because the content is indecent or politically incorrect.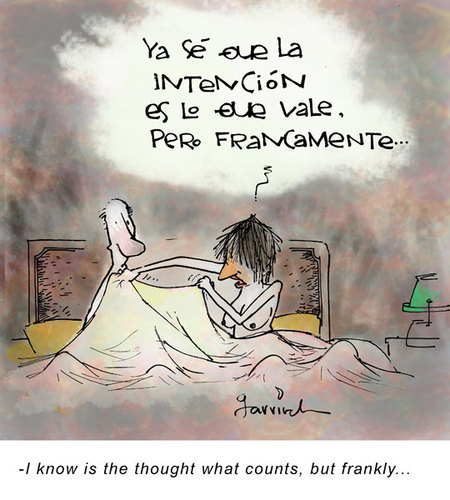 How is the ratio of sex cartoons to family-friendly ones in your current work?
I would say is a quarter of what I draw, counting comic strips, illustrations, caricatures, editorial cartoons and gag cartoons. Maybe less.
It's just that I find it relaxing being provocative and finding accomplices in the more familiar or intimate circuit of my reduced number of blog readers, Facebook friends or toonpool.com users. Although the latter two imply a number of readers not as small as I have imagined.
The majority of your sex-themed cartoons takes a males perspective with women and their genitals being demoted to objects of desire for the penile protagonists. Why such limitation?
Because that's how pathetic we are.
Who is "we"?
Uh… Men as a group? Mankind in general?
I am pretty sure that – at least – one half of mankind would disagree. So, let's stick with "men as a group". Do you think that in the end, looking at yourself and other men, it all comes down to that?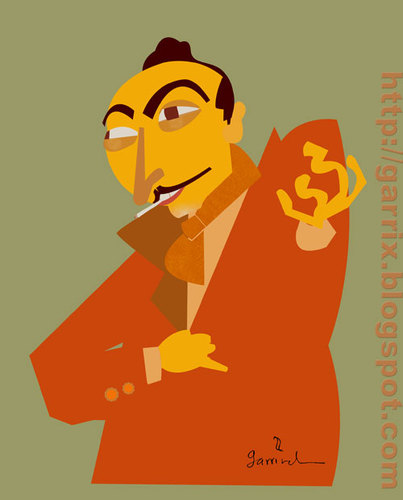 Oh, sure! I know for a fact that very few people would admit that they have something pathetic in their lives. Me, I try to stay honest. And self-deprecating helps, no doubt.
I don't really believe my approach to sex in cartoons should be taken as an "in the end" judgment of any kind. That's too serious of a stance. It's like making Bob Dylan's poetry a philosophy of life, a doctrine. I mean, come on! If my male readers laugh at themselves with my toons, fine! If they don't, too bad for them.
Some of my cartoons focus on sex sometimes to remind people that indeed they are focused on sex but lots of them won't admit it. I make that matter public, and I try to do it in a funny way.
Is there something inherently funny about sex and male genitals in particular?
It all depends on whose genitals are we talking about.
So, whose genitals are funny?
"Ha-ha-ha"-funny or "That's weird!"-funny? Well, I guess Khadafi and Hugo Chavez think theirs are cute. Even each other's.
Look, penises are cucumbers with an attitude. Women genitalia on the other hand, are very… How to put it? Have you seen Gerald Scarfe's flowers in Pink Floyd's The Wall? Scary, huh?
Women are too gorgeous to reduce them to a walking vagina or a dancing pair of boobs. I'm not satisfied at all with the vaginas I draw, I have to say. To sum up, penises are excellent characters to draw about the male brain.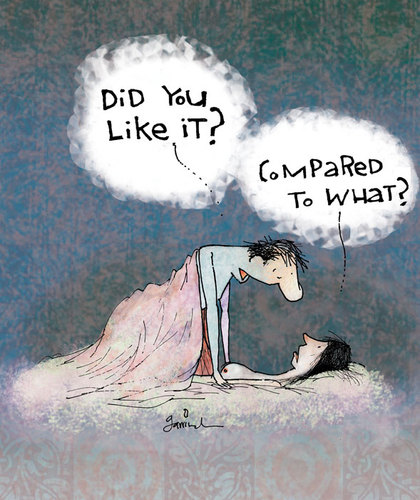 How do people react to your explicit cartoons? Is my question about limitation one that often comes up?
I can only tell from comments and emails, but it has been mostly a popular reception. Men and women alike seem to like 'em.
How about other people's adult cartoons? Do you enjoy those?
If you have sense of humor in treating sex as a theme, and if you have good drawing and conceptualizing skills, it means to me that you are a special person who chose to enjoy life.
The wit, the high quality of the drawings and the liberating feeling of mocking our sorry human nature are things not to be taken lightly. So yes, I do enjoy other artists' cartoons about sex if their work is funny, well-drawn and communicates effectively. I think I should start a club.
Thanks for your time!
© toonpool.com
Tags: adult, Garrincha, Gustavo Rodriguez, sex, xxx