Francisco Munguía is based in San José, the capital of Costa Rica. He is a full-time cartoon artist doing newspaper cartoons, paintings, ceramics murals and even computer games. Francisco and his wife Debora live together with their two sons and 25 dogs.
My first interaction with Munguía took place about a year ago when I messed up his first name in an article about cartoon parodies of famous works of art. I have to admit that this still bugs me. Here is a proper interview: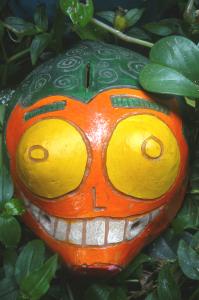 Francisco, you often quote well-known paintings in your cartoons. Can you tell a little bit about that?
You're right. Parodies of famous paintings make up for the greatest part of my "Calcamunguías" series. By now I must have done more than 200 of these reinterpretations. I prefer to caricature a work of art rather than politicians.
People from Guatemala, Holland, Korea, Ghana, or Spain easily recognize the Mona Lisa, or Munch's Scream, but I think they hardly know the name of the president of my country. Chances that it will still be like this in 100 years are very high.
So, people like the parodies?
Yes, I started this series in 2008 and it became very popular. I even managed to organize a traveling exhibition of several rooms. Humor and parody are a great way to bring universal art to young audiences. In each exhibit my paintings are accompanied by a photo of the original painting, and the names of the piece and the artist. I also use the paintings to carry forward messages of animal welfare, ecology, and social interest…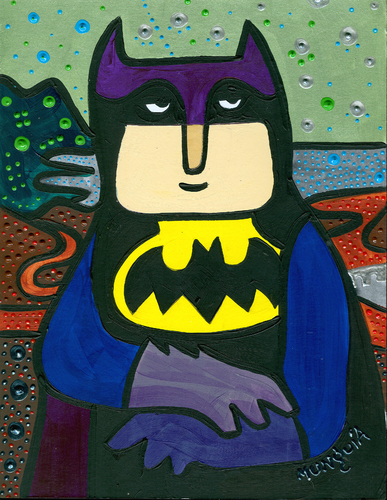 While I love art, lots of paintings often seem boring to me – without humor and color. I'll arrange that. My works are an upgrade, so to say.
What exactly do you mean by "boring"?
Over time, art has become more colorful and humorous, less realistic in form and more realistic in content, Michelangelo was gifted but his themes are limited by religious mythology. Rembrandt is a great artist but I do not like the many shadows in his paintings. Goya is extraordinary and very critical, but his works are void of color and the humor is very black.
I prefer the toonpool cartoons to Mona Lisa, but I enjoy Mona Lisa much more than CNN news. The best example I have is Guernica, one of my favorite paintings – a large painting, very critical, but all the characters suffer. It's gray, it's sad, and it is a cruel reflection of war. My version is happy and optimistic. The family is celebrating the birth of the child, they live in peace surrounded by animals. It is full of color, like an exorcism of the original.
Still, there must be something you like about the original paintings.. right?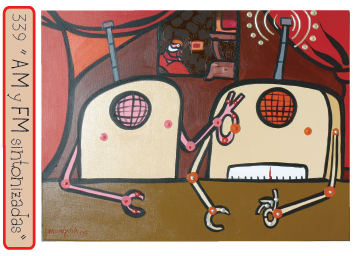 You can learn many things from works of art from the past – composition, color, history, allegory, symbolism. But I prefer the more recent artists: Van Gogh, Picasso, Duchamp, Magritte. The latter being very colorful, very symbolic, and very close to cartoons.
How did you decide on the color scheme you are using?
Costa Rica is a very colorful place. This has definitely influenced my art. I use a preset color palette when working on the computer. In my paintings I am more free. I use intense and plain colors, I will create texture by overlapping spots, dots and drops of pigment. I hardly ever use shadows – I am all for day-life, I love the light. Coloring is the most spontaneous part of my work, it is like a game.
Your cartoons look as if they are done very quickly. Is that true?
I am a fast artist. Coming up with ideas may take some time but I have so many in line that I have more ideas than time to realize them.
Some of my drawings take 20 minutes from the white sheet to adding color on the computer. I am even faster when I do several pieces at once. I can paint up to three pictures at once and finish them in one day.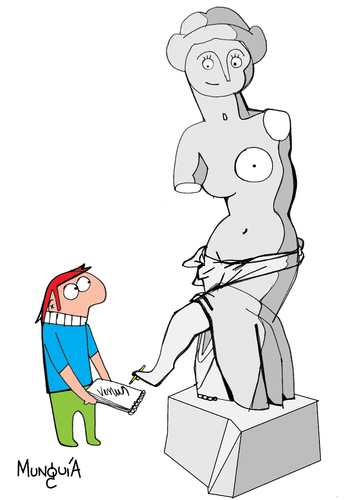 I paint murals of 30 square meters in four hours, but my ceramic pieces, for example, take me a couple of weeks. My largest mural took me two weeks with the help of one assistant. But there was also one that lasted two months. It was a pedestrian bridge that was painted underneath, inside, outside and everywhere. I needed cranes, extensions and several assistants for that one.
What, exactly, is the jobs of the assistants?
For my murals I cooperate with the community where I paint. Neighbors join the production as volunteers. Often they will ad the colors to the drawings – sometimes even little kids will paint a small piece. This way they become part of the art and the neighborhood improvement.
Other things assistants will do is to clean my brushes, put the paint into little containers for the use of volunteers. I am responsible for all drawings, for the coordination, I will fix errors made by volunteers and will finally add all the lines that define the painting.
Which do you like better – the murals or the small formats?
It's hard to choose. The mural brings me closer to communities, but in the smaller formats I can do at home even if it is raining. The decision for "micro" or "macro" depends on the needs of the moment, and my time. Also the murals need sponsors, the small formats don´t.
Thanks for your time!
Tags: fine arts, Francisco Munguía, Mural, Picasso, spoof