Jean-Marc Borot is a caricaturist and illustrator from Clermont-Ferrand in central France, a town probably best known for being the home of the Michelin tire factory. "Borot" being already taken by a taekwondo champion, Jean-Marc signs his works as "JMBorot". I asked him a couple of questions about his work as a professional and about certain consistencies in the portfolios of him and his fellow caricaturists.

Jean-Marc, most of your works seem to be caricatures rather than cartoons or illustrations…

Yes, I draw caricatures most of the time. Sometimes they are published – mostly portraits of musicians – and sometimes I sell prints or canvases. The bigger part of the money I make is from live gigs – weddings, company parties, etc. I do a few cartoons and illustrations when I'm commissioned to do so.
Do you travel a lot for those live gigs or are they all near your home town?
Most of them are in the area of Clermont-Ferrand. Travel is expensive and there are caricature artists everywhere in France… But I once went to Kuwait City and I had several gigs in Paris, Orléans, Montpellier,..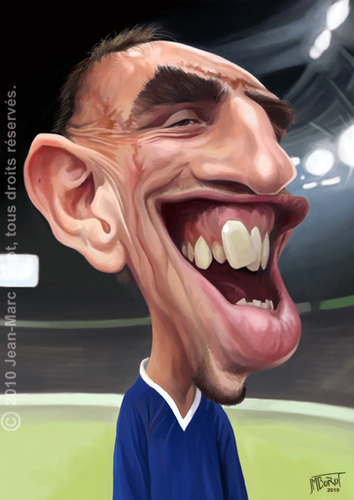 So, there is a lot of competition in France?
Yes, there are competitors – and friends ! I know many of them, and I often work with people like Laurent Deloire, Eno, or Gervais Loock. And if you know their art, you understand why it's better to be "friends"… I am joking of course – they are really friends.
What effects does the competition have? Do you, for example, have to lower your prices if another artist does so?
With friends, and with many "professional artists" the prices are not really a problem.
The problem is with the young guys who don't know how much they can ask for because they don't know their own value. I know this because I've been one of them years ago !
Looking at all the caricatures on toonpool.com I was wondering if there are "stock caricatures" – i.e. caricatures of certain celebrities that every caricaturist must be able to do?
This is a difficult question. My answer is both "Yes" and "No". Yes, because a portfolio must contain famous faces of famous people.. Michael Jackson, Sylvester Stallone, Bob Marley. For a French caricaturist those three are not so important, though. Here, the "must-haves" are Lino Ventura, Gérard Depardieu, or Louis De Funes. And Sarkozy, of course.
The important thing for a portfolio, in my opinion, is to show some really famous faces. The portraits "everybody" does, or expects to find in a portfolio. On the other hand, it's important for this portfolio to show some subtle and specific faces, unusual faces. It reveals one's personality.
Can you tell a bit more about revealing your personality in your portfolio?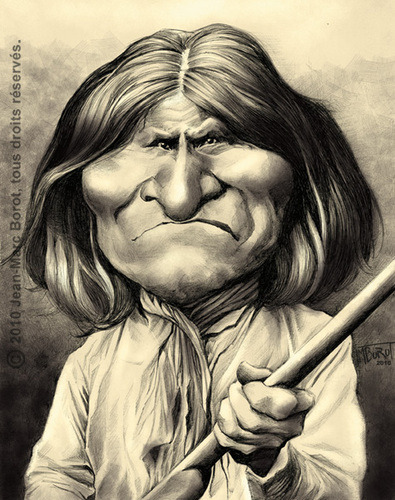 It's simple, actually. It's just a matter of the choices you make, choosing one person instead of another. And the choice of one reference picture, and, by extension the illustration itself, instead of another.
When I draw a caricature of Arthur H, I can be sure that many people won't know who he is, even in France. When I put Marilyn Manson and Lemmy Kilmister in my portfolio, it's different from showing Madonna and Robbie Williams.
Nothing against those two, but it reveals the tastes of the author. Always. Would you say that Sebastian Krüger doesn't like the Rolling Stones, for example?
Also, the way you draw people reveals something about yourself. Some caricature artist only draw faces in front view. Others want to show full bodies in movement..This reveals that they have different artistic interests.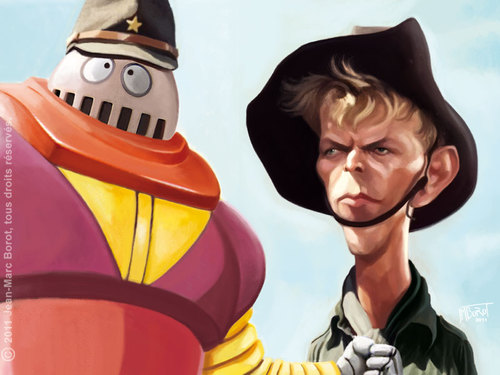 Are there any caricatures that you have done or seen so often that you could draw them without a reference picture?
Yes ! Sarkozy for example. Four years ago , just before he was elected, I drew eight caricatures of him in a row and now I don't need a reference. The same is true for Marilyn Manson and Lee Van Cleef. But don't ask me why !
Thanks for your time!
Tags: Jean-Marc Borot, JMBorot