Source: http://www.toonpool.com/cartoons/Iran_53474
The recent presidential election in Iran and its aftermath found huge international coverage and attention.
As you may know, there was a huge and unprecedented turn-out in balloting, which was a sign of the Iranian people's will to reform the current situation of the country. But the aftermath of the election was so desperately annoying that no free soul can ever close his eyes on it.
The same is true for the cartoonists. They have always accompanied people in portraying pains and in offering criticisms, in denouncing violence and in promotion of justice; and they have always called for peace. The same is true for the time being. The cartoonists feel an obligation to stand by people who have faced such unkindness.
We the cartoonists have always tried to laugh people out of pain and pressure. But how can one witness killing of brothers and sisters and still remain silent?
In such a situation, the 9th Tehran cartoon Biennale is on the way. Due to the post-election events, the cultural joy has totally disappeared from Iranian society. So we don not see any real interest in holding such a Biennale. In the current situation, we see our responsibility in a different perspective which does not necessarily include laughing and making laugh.
Due to this fact, we the undersigned cartoonists, declare that we would not participate in this international festival. Previously, the festival has been held by cooperation and sympathy of professional Iranian cartoonists but this time, we would not cooperate or participate.
1- Arvin
2- Nahideh Asiabi
3- Mahdi Aghajani
4- Mojtaba Adibi
5- Majid Adibi
6- Ali Asadi
7- Leyla Afsari
8- Reza Amirriahi
9- Sepideh Anjomrooz
10- Roya Anooshe
11- Mehran Iranlou
12- Mohsen Izadi
13- Sadegh Bagheri
14- Hamed Bazrafkan
15- Rahim Baghal Asghari
16- Saied Behdad
17- Hamid Bahrami
18- Vajihe Pari Zangane
19- Payam Pourfallah
20- Naeem Tadayon
21- Yahya Tadayon
22- Abdolebad Taghavi
23- Mahdi Tamizi
24- Abdolhadi Sanaie
25- Saied Janghorban
26- Shahb Jafarnejad
27- Javad Jafarian
28- Mahmoud Javadi
29- Bozorgmehr Hosseinpour
30- Hadi Heidari
31- Sasan Khadem
32- Nazanin Khami
33- Mohammad Khodadadi
34- Hossein Khosrojerdi
35- Morteza Khosravi
36- Hamid Kholghi
37- Behnam Khamisi
38- Mohammad Ali Khoshkam
39- Hamideh Khiabani
40- Hesam Dadkhah
41- Rahman Dadgostar
42- Behtash Davarpanah
43- Saied Davari
44- Hamidreza Davoudi
45- Ali Derakhshi
46- Paria Dehghani
47- Khashayar Radafshar
48- Farshid Rajabali
49- Jamal Rahmati
50- Maryam Rahimi
51- Hadi Rahimi
52- Saied Razzaghi
53- Ardeshir Rostami
54- Dariush Rmezani
55- Kianoosh Ramezani
56- Shiva Zamanfar
57- Kiyarash Zandi
58- Keyvan Zargari
59- Afshin Sabouki
60- Pouya Seyedkazemi
61- Fateme Shakool
62- Hooman Shahbandi
63- Mahdi Sadeghi
64- Hamid Sadeghian
65- Hossein Safi
66- Majid Salehi
67- Mohsen Zarifian
68- Ahmad Abdollahinia
69- Ahmad Arabani
70- Mahdi Alibeigi
71- Faez Alidoosti
72- Javad Alizadeh
73- Amin Alinia
74- Nooshin Omrahi
75- Arash Farrokhi
76- Hesam Fetrati
77- Mohammad Feizabadi
78- Asad Binakhahi
79- Majid Kazemi
80- Mahdi Karimzadeh
81- Ehsan Ganji
82- Ghasem Lotfi
83- Firoozeh Mozaffari
84- Bahar Movahhed Bashiri
85- Amin Moayedi
86- Shahnaz Mohi
87- Ali Miraee
88- Ayat Naderi
89- Mahnam Najafi
90- Alireza Nosrati
91- Maryam Noormohammadzadeh
92- Saeid Noroozi
93- Mana Neyestani
94- Vahid Nikgoo
95- Pantea Vaeznia
96- Hooman Hadizadeh
97- Ali Honarvar
98- Mohammad Sadjad Taheri
99- Mahmood Mohammad Tabrizi
100- Saeid Nemati
101- Salman Raeis Abdollahi
102- Peyman Rezaee
103- Bijan Asadipour
104- Hossein Shishegar
105- Saeid Ahrabi
106- Ali Mohammadi
107- Mohammad Tahani
108- Hamidreza Pournasiri
109- Masoud Mahini
110- Ali Tajaddod
111- Mahdi Mohammadi Roozbahani
112- Rafat Hashemi Sisakht
113- Saleh Tasbihi
114- Nima Jamali
115- Jalal Rahmati
116- Ali Jahanshahii
117- Alireza Hesami
118- Mohammah Saleh Razm Hosseini
119- Soroush Dastmalchina
120- Arezoo Aghababaeian
121- Hanif Bahari
122- Monire Kordestanchi
123- Armin Golchoobian
124- Mahnaz Yazdani
125- Mohammadreza Mobayen
126- Mahmood Salami
127- Behzad Riazi
128- Edik Boghosian
129- Maryam Farahzadi
130- Salman Taheri
131- Ghasem Elahi
132- Taravat Niki
133- Javad Karimifar
134- Syavash Zarrinabadi
135- Amir Dehghan
136- Sadegh Karaei
137- Ali Akbar Aryanfar
138- Morteza Azarkheil
139- Alireza Moghaddam far
140- Ehsan Mousavi
141- Atefe Madani
142- Mohsen Jafari
143- Farid Mortazavi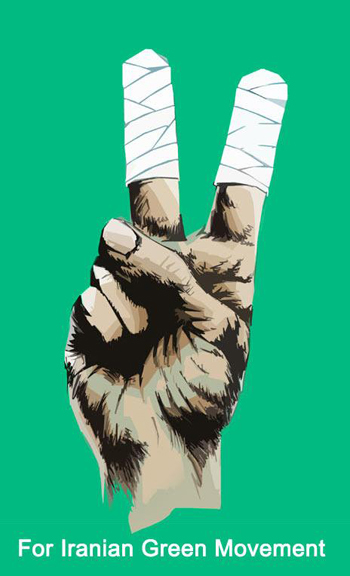 By Ali Miraee (Tehran, Iran)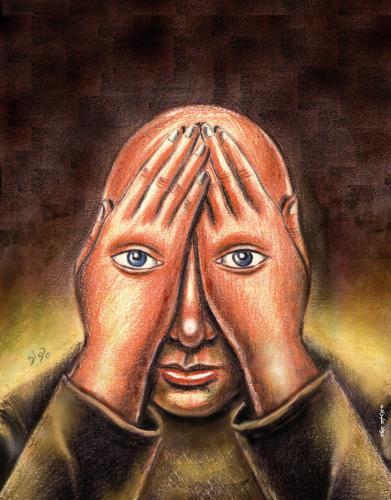 "Hidden Eye" by Javad Alizadeh (Tehran/Iran)
© toonpool.com
Tags: 2009, 9th Tehran Cartoon Biennale, Aḥmadī-Nežād, Ahmadinejad, artists, biennale, Cartoon, cartoonist, cartoonists, cartoons, election, iran, iranelection, iranian, künstler, presidential, statement, teheran, tehran