On June 15th, the Airbus A380 contest ended. A selection panel will determine the winners on July 1st, meanwhile you can check out all submissions in this blog post. Negotiations about possible merchandising deals are still going on, we will keep you informed.
There's also some sad news: toonpool.com member Zoran Mazos has passed away. Among Zoran's works are the explosive olive branch and brightly-colored apocalyptic mutant-God. We would like to send our condolences to his friends and family during this difficult time.
Introducing…

Thomas Bertelon is a new member from Toulouse. He has only contributed three works so far, but I like them. As you can tell from his avatar, exposure to Japanese comices definitely influnced his style. There is, for example, a "super-deformed"-style comment on the recent quarrels in the French national football team. The great thing about Thomas's art is, that his style is still varied. Just compare this watercolor caricature of Maradona and this computer-colorized sketch of Uruguayan forward Forlan.

Néstor Marcià is from Barcelona. The majority of his works so far are about Spanish politics and culture and mostly they are in Spanish (don't be mad at me if it's atually Catalan – I don't speak either language). Luckily, he added translations, so readers can roughly figure out what the cartoons are about. Getting a glimpse at other nations' political cartoons is one of my favorite things about toonpool.com, so I enjoyed his works.  Néstor does minimalist cartoons (1,2), slightly less minimalist cartoons (1,2), and photo manipulations (1).
Cartoons of Interest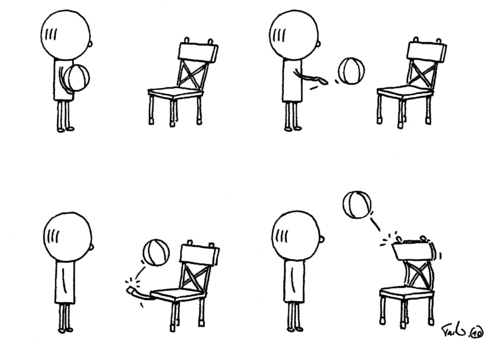 As you may have figured out, I am far from done with the football cartoons. There are just too many and too many good ones. My favorite this week is kind-of uncharacteristically quiet. It's called "Ballfieber" and it's by German artist Trantow.
Please remember that you can still sign up for toonpool.com's Caricup 2010 in our forum. There are plenty of new and awesome football caricatures in our soccer portraits colection. Take, for example, this Michael Rooney by new member Paleju and a whole series of very cartoonish and very spot-on caricatures by Junior Lopes (e.g. Ribéry, Messi & Klose).
Tags: football, last week, letzte woche, soccer