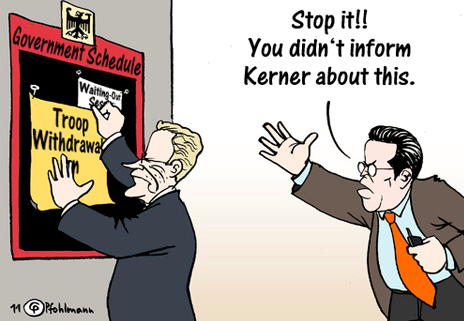 I would like to introduce a new format to this blog. I am going to try to try to explain cartoons that require very specific knowledge about a certain country's politics and culture. Doing so may ruin every gag whatsoever. On the other hand… these cartoons aren't funny anyway if you don't have any idea what's going on. If you have any editorial cartoons that you would like me to figure out, just send me an email.
For the first installation of "So… What's This All About?", I picked an easy (read: German) one. "Kerners Abzug" ("Kerner's Withdrawal") by Christiane Pfohlmann was posted on January 12, 2011. The translation is mine and unfortunately not 100 per cent precise. But you get the general idea.
Who are these people?

This is German Foreign Minister and Vice Chancellor Guido Westerwelle (FDP). Mr. Westerwelle recently announced that some German troops would be withdrawn from Afghanistan by the end of this year.

This is German Minister of Defense Karl-Theodor [...] zu Guttenberg, a member of the conservative CSU party. Mr. Guttenberg  protested the announcement claiming that "the withdrawal depends on the current security situation" and that any fixed date would endanger German soldiers.

This is Johannes B. Kerner, German talk show host and occasional seltzer spokesman. In December 2010 he travelled to Afghanistan together with Guttenberg to record a talk show in Mazar-i-Sharif. Mr. Kerner is sometimes criticized for his "soft" approach to interviews and for being sickeningly harmless.
What's the point?
Guttenberg is sort of a polarizing figure in Germany. A lot of people think that this eloquent offspring of an aristocratic family will and should be our next chancellor. Others consider him a bit too keen on publicity and shaping his public persona. Apart from Kerner he also took his wife on that December trip to Afghanistan – an uncommon move in sober German politics. Some people accused him of turning the official visit into a publicity stunt and photo op.
The reference to Mr. Kerner in this cartoon does not imply any political influence on his side – he is no Bill O'Reilly or Glenn Beck. It rather denounces the personalization and PR-ization reminiscent of US campaigning that  the artist sees in Mr. Guttenberg's approach to politics.
I hope this was of any help.
Tags: Guttenberg, Kerner, Westerwelle