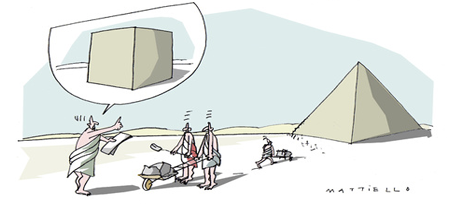 [zur deutschen Version des Interviews]
Swiss artist Ernst Mattiello works for German newspaper Handelsblatt, among others. While Mattiello, born 1941, has been publishing cartoons since 1966, this wasn't his main occupation until 2001. He had been working as an elementary school teacher for 40 years until he decided to become a full-time cartoonist.
Austrian publishing company Verlag der Apfel has just published an anthology of Mattiello's cartoons. Adding to that, an exhibition of his works will take place in Solothurn, Switzerland between May 20 and June 11, 2011.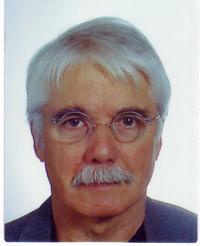 What was it like to work as a teacher and a cartoonist ? Was there any free time at all?
I mainly published cartoons reflecting on my work as a teacher in education journals. I mostly used the time assigned for preparation and wrap-up for my drawing.
There was a very vital interplay between the two occupations. The cartoonist supported the teacher, so to say – built him up, in a way. And vice versa. And, no, there wasn't too much free time.
How has your style changed since 1966?
In the first few years my characters were very simplistic. At the same time they were heavy-handed and klutzy, not very accessible from an aesthetic point of view.
Later the characters would gradually become more pleasing. I would also use colors more lavishly. Unfortunately this wouldn't always work well in terms of readability.
So, how did you develop your current style?
Only a few years ago. I was traveling in Vietnam with my wife and she had become very sick. I had lots of sleepless nights. During these nights I would brood over my work as a cartoonist. I had quit my job as a teacher a couple of years earlier and meanwhile my side job had become a full-fledged profession.
In Spring 2008 I was supposed to exhibit my works as a part of the Solothurn Literature Days. I decided to make this a test-run for a new style – with characters drawn in just a few strokes and spare use of colors. I wanted to minimize complexity in order to maximize the message.
I would say that the simpler characters allowed for a clearer view on the stories I want to tell in my cartoons. In a way I have returned to where I came from. But this time I have a better grasp on my characters.
Did you present your new style in that exhibition?
When I returned from Asia, I methodically tried to implement my findings. My current style – which, I am sure, is still subject to change – was at least partially visible in that exhibition's cartoons. Both in the lines and the coloration.
There will be another exhibition in Solothurn on occasion of your 70th birthday. Will this be a kind of retrospective?
Only partly. The majority of the 70 works on disply is from the last four years. There are, however, five "remakes" of older cartoons that are very important to me.
What makes them important?
They are precursors to my current works, foreshadowing them in their laconicism.
You are a Swiss citizen but you also work for German newspapers like Handelsblatt. Are there any significant differences between Swiss and German newspapers?

In German newspapers there is still room for cartoons and caricatures. In Swiss media the space that used to be reserved for cartoons is almost entirely taken over by editorials.
The few Swiss editors who still care about drawn stories tend to expect the cartoonist to express his interpretation of a story, his version. German editors, on the other hand, tend to already have an idea about how the story should be interpreted and will choose the cartoon that's closest to their own interpretation.
This is, of course, a very subjective assessment and might not bear up to any objective examination…
Which of the two suits your own approach to cartoons better?
Assignments always are fun. As long as I can identify with the content of a task it's not important whether the editor takes an "opinion approach" or an "illustration approach".
Of course it's more fun when you are approached as an author and not just as someone providing a service.
Thanks for your time!
Exhibition
Künstlerhaus S11
Schmiedengasse 11. Solothurn,
May 20 – June 11, 2011
Opening hours:
Thursday & Friday 3pm-7pm,
Saturday 1pm-5pm,
Sunday 2pm-5pm
Opening hours June 3-5:
Friday & Saturday: Noon-6pm
Sunday 1pm-4pm
Book
Ernst Mattiello : Cartoons
144 Seiten, € 29,80 (CHF 51,70)
ISBN 978-3-85450-170-1

Pages: 1 2
© toonpool.com
Tags: Ernst Mattiello, Schweiz, Switzerland